This is a busy time of year: holiday shopping, baking, wrapping... it's easy to forget something, but SmileDirectClub offers many helpful tools and reminders to make sure that my husband is staying on track with his treatment.
Convenient Case
My husband wears his aligners almost all the time, but when he's not wearing them, there is a case he uses to keep the aligners safe. Because they are invisible, if he sat them down somewhere (like on the bathroom sink) he may not even notice they are there and forget them, or even worse... they could end up getting accidentally thrown away by someone else in our house. The case makes it convenient to know exactly where the aligners are when they are not in his mouth, and it's easy for him to take the case with him to work, so he can take out the aligners when he's eating his lunch and knows right where to find them when he is ready to put them back in.
Easily Identifiable Aligners
All the aligners he will need for his treatment came in his blurple box. They are easily identifiable because each packet of new aligners is labeled, but to make it even easier, each aligner is labeled, too, just in case you forget which set you are currently wearing. The aligners are in order in the box, too, so it's really easy to see which packet comes next in your treatment.
Aligner Tools
Sometimes the aligners can be snug when you put a set in for the first time. SmileDirectClub provides Chewies for this. Chewing on the Chewies like a piece of gum helps to get the aligners fully set in your mouth. Sometimes it can be a little tricky to take them out, too, so you are provided with an Outie tool, which helps to grab the aligners off your teeth.
Helpful Website with Reminders
SmileDirectClub's website offers a Patient Portal with lots of useful information. It lists your progress, the date when you will switch to your next aligners, a countdown to show how far in your treatment you are and how much time is remaining in your treatment. You can also find an aligner guide, which explains everything that comes in your box, as well as tips and instructions for using your aligners and how to clean them.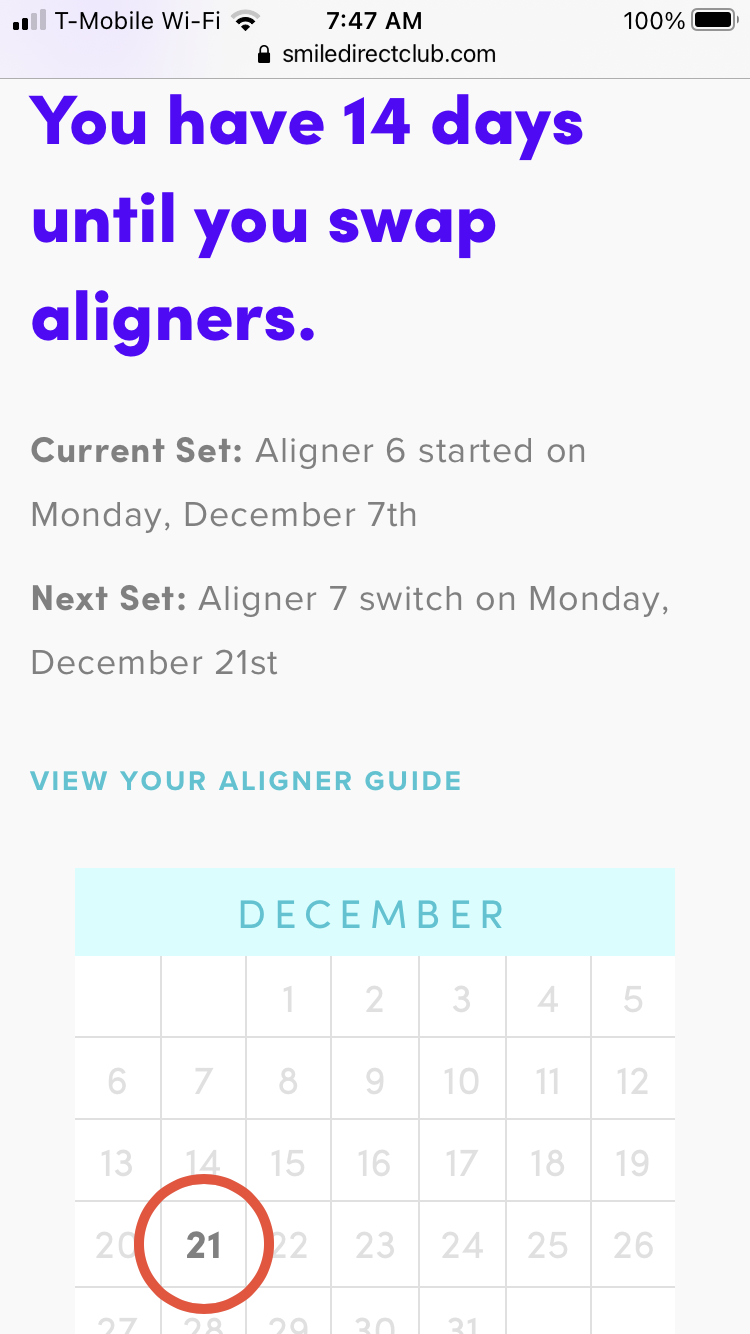 My husband is well on his way to a more confident smile, thanks to all the help from SmileDirectClub. According to his Patient Portal, the ETA on his new smile is February 15, and he's about 40% of the way through his treatment already.
You can have a smile you love, too! Just click here to find out if SmileDirectClub is right for you.