A healthy meal made for ME by my kids? And we're going to sit down together and eat as a family without any electronics in sight?
Sounds like it might be easier to find a unicorn — yes? Well, with two teens of my own, I get it. Screen time limits in my home have pretty much disappeared for my teens, as the pandemic has rolled on.
I'm not going to lie — there are days they eat meals in their rooms while going to school online, then roll over onto their beds to scroll through TikTok and YouTube. For hours.
Enter mom guilt.
I have really started to worry about their digital health, so I am trying to get creative with solutions.
Hello, to a new "Mom Required" class added to distance learning… home ec.
Yep. Home ec.
I've "assigned" my two teens the job of preparing meals twice a week together.
Now we are talking about teens here, so the recipes need to be fairly easy, but still healthy and something they actually want to eat.
Let's talk tuna.
The only tuna on the market to meet "low mercury" criteria.
Not long ago, I was introduced to Safe Catch Elite-Pure Wild Tuna. All tuna is the same, right? Let me tell you, I was way wrong.
Safe Catch is such quality, you don't dare even drain it! That's the first thing I've always done when I open a can of tuna. But don't do that with Safe Catch! Instead, pour everything — tuna and liquid — together into a bowl and mix those beautiful Omega-3s back in.
Tuna fish has always been a staple in my home and now I don't have to worry about my family eating tuna because Safe Catch hand selects only sushi-grade tuna and they mercury test every single one!) Safe Catch averages 25 times lower levels than the FDA mercury action limit.
How safe is Safe Catch? It's the official tuna of the American Pregnancy Association!
Yep, sustainably-caught Safe Catch Elite and Safe Catch Ahi are the ONLY tuna on the market to meet the "low mercury" criteria set by Consumer Reports for vulnerable populations like pregnant women and young children.
So I felt good about "assigning" my teens two tuna recipes this week as part of their "home ec" class with mom. They created tuna pizza bites for dinner and tuna with watermelon radish and pickled onion crackers for lunch. You can find those recipes at the bottom of this story. (They're DELICIOUS and EASY, so give them a try!)
The other part of our "home ec" class we've all committed to as a family is sitting down together at the kitchen table together to enjoy their home-cooked meal. That means all of our electronics are turned off and put into a basket. Yes, they're turned ALL the way off because even in silent mode, the vibration is a distraction. It turns out their finely tuned teen ears — which apparently can't hear me when I ask them to clean their rooms or unload the dishwasher — can hear that teeny tiny vibration from rooms away.
So far "home ec" has been a success, largely thanks to Safe Catch. I suppose you could say we're tuning out to tuna in.
---

Makes 12
Ingredients:
1 can Safe Catch Elite Wild Tuna
3 large eggs
3 Tbsp tomato paste
1 tsp dried parsley
1 tsp dried oregano
1 tsp dried basil
1 tsp garlic powder
¼ cup quick oats
½ cup grated parmesan
1 cup grated mozzarella
Cooking spray
Cooking tools you'll need:
Medium and small mixing bowl
12 count mini muffin tin
1 small cookie scoop
Measuring spoons and cups
Instructions:
Preheat oven to 350 degrees F.
Lightly spray a 12 count mini muffin tin with cooking spray and sprinkle a dusting of grated parmesan cheese in the bottom of each cup.
Open a can of Safe Catch Elite Wild Tuna (Remember: Do not drain!). Use a fork to flake the tuna in the can until all the liquid is absorbed, then empty into a medium mixing bowl along with eggs and tomato paste.
Add quick oats and dry spices to the mixing bowl, along with with half the mozzarella and any remaining parmesan. Mix with a fork until all ingredients are combined.
Use a small cookie scoop or tablespoon to place mix into the 12 muffin tin cups.
Bake for 12 minutes.
Top pizza bites with remaining mozzarella and bake an additional 4-6 mins or until cheese has browned.
Remove pizza bites from oven and let cool.
---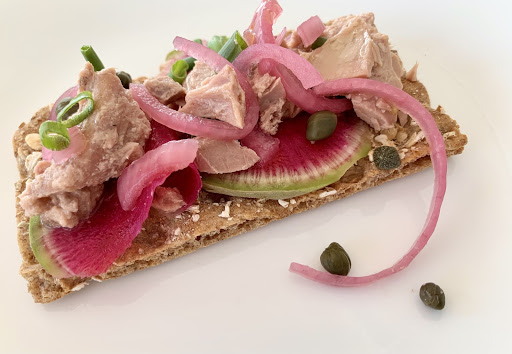 Tuna with Watermelon Radish & Pickled Onions on Cracker Crisp
Makes 4
Really, you can use whatever toppings you love, for ours, we used the following:
Ingredients:
4 Wasa Multigrain Crisp crackers
1 can Safe Catch Elite Wild Tuna
Watermelon radish, sliced
Pickled onions
1 Tbsp capers
1 scallion, chopped
Directions:
Top cracker with sliced watermelon, tuna, pickled onions, capers. and scallions. Enjoy!
---
Check out Common Sense Media if you're looking for ways to get your kids engaged and away from their electronics. They have great information and ideas on how to get your family on board with Device-Free Dinners.